We have a team of over 200 highly-qualified professionals, strategically located throughout key points in Argentina and the region.
Puerto Madryn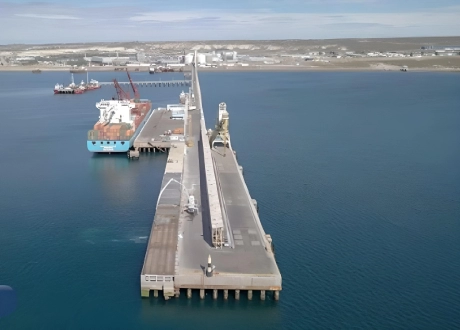 Muelle Storni | Puerto Madryn
Depth alongside: 42' to 55'
Access draft: 37'00″ SW
Max LOA: 250
Max Beam: –
Airdraft: 14,5 m
Tide restriction: Yes
Night Arrival / Sailing restriction: No
Method of loading: Vacuum Discharger / Ships crane
Working hours: M/F 0700-0100 Sat 0700–1300
Overtime: Sat 1300 to Mon 0700 M/F 1900-0700
Loading rate: 600 tph (discharge rate)
Bunkers: Yes by truck
Fresh Water: By line
Garbage collection compulsory: No – By truck
Others: There is a speed limit which has to be followed from June 01 until December 31 (due to "whales" season). Max speed to be developed inside "Golfo Nuevo" during this periodo f time is 10 knots.
SEE MAP